CPU's

As computer sales soar in the global marketplace, computer manufacturers are challenged to create increasingly powerful computers. The power and performance of a computer depends on mainly the CPU or the Central Processing Unit of the computer. As the brains of the computer, the CPU is the most important MVP (most valuable player) of the system. The arithmetic logic unit (ALU) which performs the arithmetic and logic operations and the control unit (CU) which decodes instructions that are stored in the memory and executes them comprise the two major parts of the CPU.
Computer manufacturers have found that performance is boosted if a computer has more than one CPU. This arrangement is called Dual-core or Multi-core Processing and harnesses the power of two processors. In this configuration, one integrated circuit contains two processors, their caches as well as the cache controllers. These two "cores" have resources to perform tasks in parallel, almost doubling the efficiency and performance of the computer as a whole. Dual processor systems on the other hand have two separate physical processors in the system.
In addition to the multitasking of processors, some advances in technology such as hyper-threading (processing multiple system intensive applications at the same time), extended memory 64 technology and dual core ( two cores in one processor ) are also enhancing system responsiveness. Some resellers are using a method called "overclocking" to increase the performance of the CPU by enabling it to run at higher speeds than those recommended by the manufacturers.

Intel CPU's
Currently, Intel and AMD are the major CPU manufacturers who seem to have the market covered. Although Intel still leads in the high-end super performance chips and processors in general, it seems that AMD is more or less cashing into the mid size desktop and laptop markets as well as the lower end budget computers which are used mainly for web browsing or text processing. However, AMD seems to have grand plans for its Quad Core processor Phenom which will be on the market in the near future. Most computers such as APPLE Macs, Gateway computers, HP computers and Dell use processors made by the same computer manufacturers, such as Intel, AMD, etc. The more competitive these manufacturers get, the better it is for the average consumer.
Let us look at some of the CPUs that are providing intelligence to some of the newer computers on the market:
Multi-Core Intel Xeon Processors
The core speed of Xeon family of processors range from 1.6GHz to 3.2 GHz. These processors are suited for specific communication applications such as telecommunications servers, search engines, network management or storage. It provides high memory bandwidth, memory capacity and I/O bandwidth. In addition to the high performance specifications, this family of processors also has the added benefit of lower thermal design power which enables it to be an excellent choice for thermally sensitive and minimized space applications.
Examples of Computer manufacturers that use this processor in their systems - Dell, @Xi, Apple, Fujitsu Siemens.
Intel Core 2 Extreme Quad-core Processors
This first four core desktop processor is designed for multimedia applications such as audio/video editing and rendering, 3D modeling and other intensive, high CPU demanding tasks. With multi-core processing, the system response is improved by delegating certain tasks to specific cores. Quad core configuration also has an unlocked clock for easier overclocking. Users who have high performance applications will appreciate this processor's multi-threading and multi-tasking abilities. The new technology delivers more execution power per cycle with the four cores completing each instruction simultaneously.
Examples of Computer manufacturers that use this processor in their systems - Dell, Gateway.
Intel Core 2 Duo Processors
The new Intel chipsets that feature 1333MHz bus speeds are enabling the creation of higher performance processors at competitive prices. There are four processors: Core 2 Duo processor E6400, Core 2 Duo processor E4300, Core 2 Duo processor T7400 and the Core 2 Duo processor L7400. This family of processors delivers more instructions per cycle, improves system performance by efficiently using the memory bandwidth and is more environmentally friendly because of its low energy consumption.
Examples of Computer manufacturers that use this processor in their systems - Apple computers, Gateway.
Intel Pentium Processors - Pentium M , Pentium 4
This family of Pentium Processors uses a micro architecture for high-performance computing using low-power. These processors are designed for medium to large enterprise communications applications, transaction terminals, etc. The cheapest Intel CPUs now available in the market are the Intel Pentium models (refurbished costs about $31.00).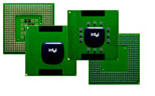 Intel Pentium Processors
Intel Celeron Processors
The Celeron M family is designed for the next generation mobile applications. Combining Intel's trademark high performance stats with low power consumption, these processors are perfect for thermally sensitive embedded and communications applications. This family of processors will probably be used for small to medium businesses and for enterprise communications, Point or Sale appliances, kiosks and ATMs.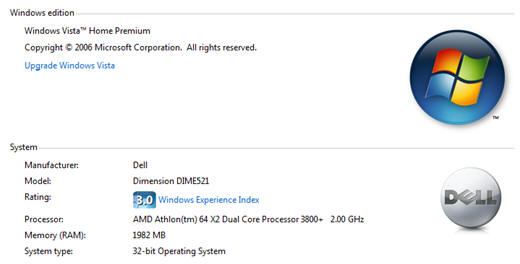 Windows Vista installed on a Dell Dimension 521 with an AMD Athlon 64 X2 Dual Core processor
AMD Athlon 64 FX
This processor is suited for high performance computing such and multi-media applications or gaming.
Examples of computer manufacturers that use this processor in their systems - ZT, Aurora
AMD Athlon 64 X2 Dual Core processors
Popular computer for medium to high performance computing. Boosts performance by using dual-core technology. The Athlon 64 X2 is the best AMD value for its price.
Examples of companies that use this processor in their systems - Acer, HP , Gateway
AMD Athlon X2
Efficient processor that gives Intel the run for its money. Although they cannot compete with the high performance category, the new Athlon X2 BE-2300 performs well while consuming the least amount of power when compared to similar systems on the market.
AMD Sempron
This processor has built-in security and reasonably good performance for web surfing or text processing applications. AMD Sempron also has an alternate CPU design used for mobile applications only. The cheapest AMD processors out there are the AMD Sempron ($25.50)
Examples of Computer manufacturers that use this processor in their systems - Dell, HP
AMD Turion
This family of processors are designed for mobile technology. The options are dual-core performance, thin and light notebooks with extended battery life.
Examples of Computer manufacturers that use this processor in their systems - Insight, HP, ZT, Acer Fujitsu,
AMD Opteron
For high end Servers, AMD has designed the Dual-Core AMD Opteron as well as the regular AMD Opteron processors.
Examples of Computer manufacturers that use this processor in their systems - Dell, HP, IBM
As we can see, there is a daunting array of high performance CPUs that are available in the market currently. The consumer who decides to buy a computer needs to determine first what it will be used for. If it is to be used for gaming or high performance computing, the high end Intel quad-core or dual-core based computers may be a wise choice. For regular desktop small business applications, the dual-core or AMD single processor with higher RAM and a larger hard-disk may be sufficient. For home users who typically use their computers for web browsing and some text applications such as Microsoft Word or PowerPoint, the lower-end desktop computers may suffice.